Basketball Game On How to subtract fractions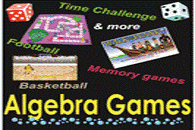 Subtraction Of Fractions Basketball Game Online for 4th, 5th, 6th and 7th grade students.
Subtract of fractions entails understanding how to find the lowest common multiple of the denominators of two or more fraction values being added. Once you find the LCM amongst the latter, simply proceed to dividing it by the numerator and multiplying by the denominator. There are other methods of subtracting fractions but the outcomes are often the same. In this game, you will be required to solve problems of this nature. Once you find the correct answer, select it among the set of choices and get the chance to play the game. You only earn points when you get both the answer and the game right. Game based learning is so much fun; hence teachers and parents can use this game to increase the excitement in kids studying algebra. Have fun playing but always keep sight of the objective.
The game is interactive, online and free. As a video game, it can be accessed both on mobile and on PC. Have fun learning.