Pirate Board Game On How to Simplify fractions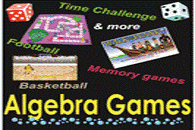 Simply Fractions Pirate Board Game Online for 4th, 5th, 6th and 7th grade students.
.Simplifying fractions simply means reducing fractions to their lowest terms. To do this, the numerator and denominator should have common factors. Start by reducing both with the highest common factor until you get to a point where there is no other divisible factor. In some cases, fractions can be simplified to whole numbers. However in cases where there are remainders, you can either write down the remainder or convert it to a decimal value. This game is a typical math quiz with multiple choice questions. However, the difference is that unlike a boring quiz with no fun activities attached, students get to play a math game while finding the solution to problems. Simply click on the start button and begin practicing. At the end of the game, a score will be displayed on the top right hand screen. Teachers can use this game as an extra resource in the classroom while parents can use it at home to homeschool their kids. Have fun learning how to simplify fractions.