Basketball Game On Pre-algebra Subtraction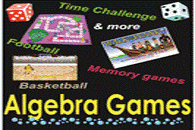 Pre-algebra subtraction basketball game for 4th, 5th, 6th and 7th grade students.
This is an interaction online algebra quiz in which students are required solve and find the value of missing variables in an equation. Each equation is a linear equation containing a subtraction operation. When solving for the missing variable, students will have to group like terms. To group like terms, students may have to move numbers or unknown variables across the equal to sign. This game is a fun quiz with multiple choice questions. Only one value of the unknown variable is correct. Once you solve each problem, you will find this value among the set of options. This topic has been covered with fun games but the goal is to learn about algebra 1 which students study in 4th, 5th, 6th or 7th grades. Have fun learning and remember to gain more practice by heading over to the worksheets section and printing out relevant worksheets. Keep reviewing and testing your skills until you feel confident that you master it. Remember that this quiz is free, interactive and always online. Hence students will learn anytime, anywhere.