Snakes and ladders Game On Pre-algebra multiplication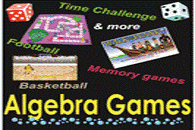 Pre-algebra multiplication snakes and ladders game for 4th, 5th, 6th and 7th grade students.
Math game based on snakes and ladders board game concept featuring math problems on linear equations containing multiplication operations. Each game board contains the following elements: snakes, ladders, a dice and multiple choice questions on the above mentioned topic. To begin you have to click the start button and roll the dice. Your chip will be moved automatically following the outcome of the dice. The goal of the player besides reaching the final destination is to answer many questions correctly. This entails solving each problem and finding the right answer. To get it right, students can have an extra sheet of paper to make their calculations before selecting the correct answer. This will minimize chances of failure and increase the chances of reaching the final spot.