Car Race Game On Pre-algebra multiplication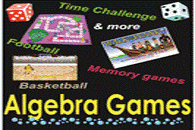 Pre-algebra Multiplication car race game for 4th, 5th, 6th and 7th grade students.
This is a pre-algebra exercise on linear equations for students in the grades listed above. This game is an interactive online fun exercise where students can review their skills on the go. Each time a student gets a question right, they get a chance to move forward and when they can't get it right, the opponent moves forward. The first to cross the finish line is the winner of the race. Playing the car rally race is not only fun but is also enables students to review critical algebra skills. Choose your car and begin the race. To do so, click the start button and begin the race. As you begin, observe your position vis-à-vis the opponent. Ensure you stay ahead of the race to win. To do so, solve as many problems as possible correctly.