Basketball Game On Pre-algebra multiplication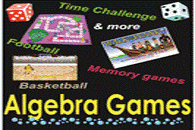 Pre-algebra Multiplication Basketball game for 4th, 5th, 6th and 7th grade students.
Interactive online math basketball game on pre-algebra multiplication. It features linear equations that contain multiplication operations and a missing variable. You have to solve for the missing variable and supplement to make the equation balanced. Basketball is a fun game and algebra 1 is a fun topic too. The goal is to solve as many problems as possible and get the chance to chance to score points. Each time a student gets a question right, they have a chance to have some fun. Only students who can answer questions correctly will have a chance to take a break and play. This game is for reviewing before and after class. There is more practice under the worksheets section.
fun learning online. Math Games | Math playground | Math quizzes | Cool math games | Free Math test