Wheel of fortune Game On Introduction to Pre-algebra addition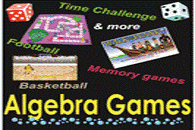 Pre-algebra addition wheel of fortune game for 4th, 5th, 6th and 7th grade students.
The wheel of fortune game on pre-algebra addition features an introduction to linear algebra collection. Students are required to solve problems and provide answers by selecting among a set of choices. Each time you get the answer right, you are required to spin the wheel to find out how many points more you can win. Students will have a casino fun experience while reviewing an essential algebra 1 skill. Start review and winning points online.
fun learning online. Math Games | Math playground | Math quizzes | Cool math games | Free Math test