Snakes and ladders Game On Introduction to Pre-algebra addition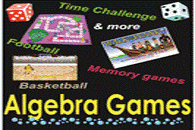 Pre-algebra addition snakes and ladders game for 4th, 5th, 6th and 7th grade students.
The snakes and ladders game is a great way to go if you want to add the excitement of learning math amongst children. Why? Because this game has been around for ages yet every generation tends to like it and have a lot of fun playing it. In the currently activity, the snakes and ladders game has been blended with linear equations involving addition which students are required to solve. To play, click on the start button, roll the dice and get the chance to move forward. Each time you land on a ladder, you are given a chance to move forward several spaces. But of you land on a space containing a snakes mouth, it will scare you down to lower position. This game is so much fun and students will learn a lot while playing.
fun learning online. Math Games | Math playground | Math quizzes | Cool math games | Free Math test