Quiz Game On Introduction to Pre-algebra addition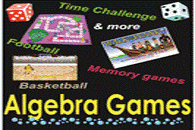 Pre-algebra addition quiz game for 4th, 5th, 6th and 7th grade students.
The quiz is an online fun game with the goal of earning as much points as possible. However, this does not happen without answering a number of questions correctly. Students have to solve problems and answer questions as they play. Featuring are questions on linear algebra addition in which students are required to find the missing values in an equation. It is interactive and always online. Hence students can use this quiz for self-study at home. Have fun earning points and solving math problems.
fun learning online. Math Games | Math playground | Math quizzes | Cool math games | Free Math test