Pirate Game On Introduction to Pre-algebra addition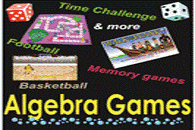 Pre-algebra addition pirate game for 4th, 5th, 6th and 7th grade students.
If you love to be a pirate, then this is an opportunity to become one online. This pirate game is an eLearning game that contains two opposing pirates seeking to win a fight at sea. Each time a pirate gets a question right, they get the chance to sink the opponent's ship. Although this game is much fun, students also review with an introduction to linear algebra. The problems contain a basic and simple equations containing a missing variable. Each time you solve a problem correctly, you are given points that cumulate to a final score. Parents can use this game to homeschool their kids, while teachers can use it to add excitement in the classroom.
fun learning online. Math Games | Math playground | Math quizzes | Cool math games | Free Math test