Car Race Game On Pre-algebra addition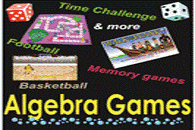 Pre-algebra Addition car race game for 4th, 5th, 6th and 7th grade students.
This is a math game that features a car race. The fun of the game is punctuated by pre-algebra equations which students have to solve. The problems are related to linear equations involving addition and containing a missing variable which students have to solve for. Students will find the value of the missing number and select it among the set of choices. Once you click and submit your choice, the system will tell you if you got it right immediately. Students will accumulate points as they play and in the end, a cumulative score will be displayed. Have fun learning algebra – algebra nation | algebra 1 | algebra 2.
fun learning online. Math Games | Math playground | Math quizzes | Cool math games | Free Math test