Wheel Of Fortune Game On How To Find Percentage of Numbers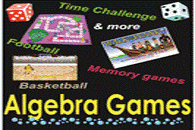 Find percentages of numbers wheel of fortune game - 4th, 5th, 6th and 7th grade students.
This is an online version of the wheel of fortune game. In this game, players spin the wheel and watch in roll until it comes to a stop. There is a stop button in the current game. Once you stop rolling the wheel, the pointer points to a random section on the wheel. Each section contains a different number which corresponds to the total number of points to be won. The winner is the player who earns a lot more points during the course of the game. However, this is also determined by how many math problems a player solves correctly. Each question is a MCQ on math problems set on the topic of finding percentages of numbers. Click on the start button and start answering questions.
fun learning online. Math Games | Math playground | Math quizzes | Cool math games | Free Math test