Snakes and ladders Game On How To Find Percentage of Numbers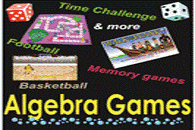 Find percentages of numbers snakes & ladders game - 4th, 5th, 6th and 7th grade students.
Have fun learning how to find the percentages of numbers through the medium of an interactive online version of a snakes and ladders game. Although this game is popular, students are used to playing a printable offline version of it. Another aspect they don't get to see is the present on multiple choice questions while playing. We have combined the fun of playing this board game with the aspect of taking a test to come up with one of the most innovative ways of teaching percentages. This game is only won when the player arrives at the final position. But to arrive at this position, the snakes are the main obstacles when the ladders are the boosts. Rolling the dice and finding out the path to take makes the game even more exciting since the outcome of rolling the dice is random. If your students love board games, then this is the way to go. Have fun learning fractions.
fun learning online. Math Games | Math playground | Math quizzes | Cool math games | Free Math test