Quiz Game On How To Find Percentage of Numbers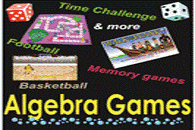 Find percentages of numbers quiz game for 4th, 5th, 6th and 7th grade students.
This game focuses on teaching students how to find the percentage of a number. It does so by offering students the possibility to solving several related problems while playing a fun game quiz. Game based learning through a basic quiz has proven to show a lot of positive results in classrooms across the world. This game tracks your score as you play. In the end, a player can tell to what extent they master the skill being taught.
This game is online and serves as a tool for both parents and teachers. It is free and can be accessed both on a mobile device or a computer. Whatever you choose, remember to review the main skill being taught. It is on percentages of numbers; you can find more practice under the worksheets section particularly worksheets on percentages.
fun learning online. Math Games | Math playground | Math quizzes | Cool math games | Free Math test