Crocodile Board Game On How To Find Percentage of Numbers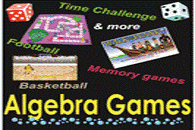 Find percentages of numbers crocodile game for 4th, 5th, 6th and 7th grade students.
Learn how to find the percentage of numbers through an interactive math fun game online. This game is the crocodile board game which involves a frog trying to get to its final destination through a swamp that harbors several obstacles. These obstacles range from minor obstructions on your track to a deadly crocodile that can eat you. What this really means is that you roll a dice, move places and the number on the dice is key in determining how many spaces you are allowed to move. It also determines which space you will land on. If you fall on a crocodile space, you will be sent back to the start position which is what most players are very unhappy about. The crocodile board game is quite fun and students will gain a lot of skills solving the problems that are found in the game. Since it is a mcq quiz, only one answer choice is correct. Be vigilant when choosing. Have fun learning percentages in this game.
fun learning online. Math Games | Math playground | Math quizzes | Cool math games | Free Math test