Basketball Game On How To Find Percentage of Numbers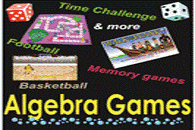 Find percentages of numbers basketball game game for 4th, 5th, 6th and 7th grade students.
This is a math basketball game on finding percentages of numbers. A percentage is a value that reflects a relationship between two quantities. It can also be perceived as a fraction of a whole number. In the current exercise, students are required to solve and find percentages of different numbers. The game takes the form of a multiple choice questions quiz in which students have to solve and select one correct answer amongst a set of incorrect answers.
The game behind this quiz is a basketball online game which kids will love. Each time you solve a question correctly, you have a chance to shoot a hoop. You only score points by solving questions correctly and finding the right answer. Have fun learning math online.
fun learning online. Math Games | Math playground | Math quizzes | Cool math games | Free Math test