Wheel Of Fortune Game On How To Multiply Fractions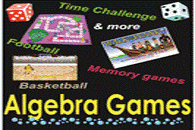 Multiplication of fractions wheel of fortune game for 4th, 5th, 6th and 7th grade students.
The wheel of fortune game looks like the Russian roulette in a casino. Players spin the wheel and earn points when the pointer comes to a halt. The position the pointer points to is random and each position contains a number. These numbers correspond to the points you earn when you spin the wheel. Each time you spin the wheel, you are prompted to solve a math problem involving multiplication of two fraction values. The next step is selecting the correct answer amongst the set of choices presented to you. This game is interactive and fun but at the same time does not lose sight of the learning outcome which is all about improving on math and algebra skills. Parents and teachers of students of 5th to 7th grades will find this a useful addition to their regular course.
fun learning online. Math Games | Math playground | Math quizzes | Cool math games | Free Math test