Treasure Hunt Game On How To Multiply Fractions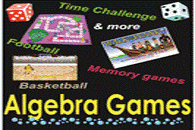 Multiplication of Fractions Treasure Hunt Board Game for 4th, 5th, 6th and 7th grade students.
Everyone dreams of hunting and finding treasure in hidden places. This notion was built around the stories and cartoons we watch about pirates and their exploits at sea. In the current case, students play a pirate hunt game on a board game involving pirates, volcano and treasure islands. The goal is to arrive at the final destination and find the treasure. However, to achieve this goal, students must solve the problems presented to them correctly. Each question is a mcq and the problems focus on multiplication of fractions. When multiplying fractions, watch out for the rules involved. Please share this game and gain new math skills in a fun way.
fun learning online. Math Games | Math playground | Math quizzes | Cool math games | Free Math test