Snakes and ladders Game On How To Multiply Fractions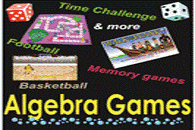 Multiplication of fractions Snakes and ladders game for 4th, 5th, 6th and 7th grade students.
This page features a snakes and ladders multiplication of fractions game. Students will have to roll the dice first and move spaces and find out if they are lucky to land on the right space. The right space or best case scenario in this game is landing on a space with a ladder that can enable you to gain several spaces up. Landing on a snake will cause you to be swallowed and sent to a lower space. The winner is the player that gets to the final space. However, the only way you can get to the final space is if you answer the most number of questions correctly. This online game is a math quiz that can be played at home or in the classroom by students. Have fun learning.
fun learning online. Math Games | Math playground | Math quizzes | Cool math games | Free Math test