Quiz Game On How To Multiply Fractions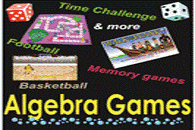 Multiplication of fractions quiz game online for 4th, 5th, 6th and 7th grade students.
This quiz game is no different from any regular multiple choice quiz. The extra bonus is that it adds the fun of a jungle theme and a boy having fun. Once you answer the question correctly, the boy gets excited and vice versa. The concept being learned is on multiplication of two fractions. There are rules involved in fraction multiplication. First of all students reduce numbers to the lowest terms with common factors. Once the numbers get smaller, it is easier to multiply. The best scenario is having to multiply single digit numerators and denominators as opposed to keeping them whole and attempting to multiply larger numbers.
fun learning online. Math Games | Math playground | Math quizzes | Cool math games | Free Math test