Crocodile Board Game On How To Multiply Fractions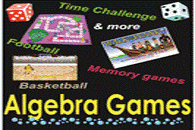 Multiplication of fractions car race game for 4th, 5th, 6th and 7th grade students.
A crocodile is a voracious eater and this board game is about avoiding them and getting safely to the final destination. This crocodile board game embeds the learning process in a fun way. Students get to solve math problems on multiplication of two fraction values, select the correct answer from MCQ's and earn points. This game can be played on a computer as well as on a mobile device. It is free, online and always available for students at different grades. Have fun learning how to multiply two fractions through the medium of a crocodile board game online.
fun learning online. Math Games | Math playground | Math quizzes | Cool math games | Free Math test