Car Race Game On How To Multiply Fractions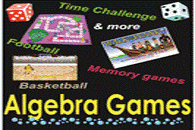 Multiplication of fractions car race game for 4th, 5th, 6th and 7th grade students.
This elearning car race game is a cool math game for children to review how to multiply two fractions. It is a pre-algebra skill that requires application of other math skills like finding the LCM or common factors of numbers. Students also apply skills of simplification of fractions.
The current game is a car race with three cars racing to the finish line. The winner is the student who answers the most questions. This game can serve as a classroom game with teams involved or a practice activity for self-paced learning. Have fun multiplying fractions.
fun learning online. Math Games | Math playground | Math quizzes | Cool math games | Free Math test