Snakes and Ladders Game On How To Find Fractions of numbers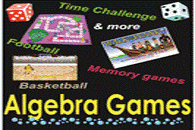 Find Fractions Of Numbers Snakes And Ladders Game - grade 4, grade 5 , grade 6 and grade 7
The name of the game says it all. We are all afraid of snakes and when you see them the first instinct is to run. The ladders are a good escape route since they can take you a long way out. This game board of snakes and ladders makes it an exciting game since students have to reach a final point after escaping the snakes. Each time you land on a snake's mouth, you are swallowed and taken back to a lower position.
To begin the game, click on the dice button to find out how many spaces you are allowed to move. Once you find out, a question will also pop up for you to answer. You can only move if you get the answer right. The math problems in this game are related to fractions. Students are required to find the fraction value of whole numbers. This game is an MCQ, Math quiz and online test for kids. Have fun and learn math at the same time.
Math video games | cool math game for kids | interactive online classroom game | math tests free online.