Quiz Game On How To Find Fractions of numbers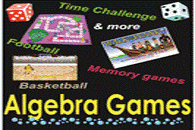 Find Fractions Of Numbers Quiz Game - grade 4, grade 5 , grade 6 and grade 7
Online quizzes are a great way to learn on your own. Students can solve problems and check their answers as they go. The good thing about it is that students can evaluate themselves since there is always an answer key embedded in each quiz. Simply hit the play button and start answering questions.
The focus in this quiz is finding the value of a number after multiplying it by a fraction. In this exercise, the "of" in the equation can simply be replaced by a multiplication sign. When multiplying fractions, students will also have to apply the notion of reducing the fraction values to the simplest form before multiplying the final outcomes. At the end of this game, a score will be displayed at the top of the screen which reflects your overall performance. There is no limit to how many times students can take this MCQ. It is a free online test and students can access it using any device.
Math video games | cool math game for kids | interactive online classroom game | math tests free online.