Pirate Game On How To Find Fractions of numbers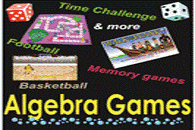 Find Fractions Of Numbers Pirate Game - grade 4, grade 5 , grade 6 and grade 7
The pirate game is a competitive game between two opposing pirate ships, each trying to sink the opponent. To begin the game, hit the start button and for the instructions, hit the help button. As students start playing, questions pop up at each stage. The questions require you to find the fraction value of a whole number. This concept can be applied in real life for example with money spent, time, quantities etc. It is a key aspect of fractions and students will encounter the notion in pre-algebra often.
The game is interactive, free and online. It can be played by two players or two groups of players. This can be in a classroom setting or at home. At home, students can play solo. At the end of the game, students will gain points according to how many points they earned. Have fun playing the game.
Math video games | cool math game for kids | interactive online classroom game | math tests free online.