Car Race Game On How To Find Fractions of numbers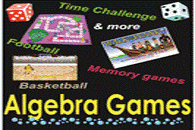 Find Fractions Of Numbers Car Race Game - grade 4, grade 5 , grade 6 and grade 7
Here is an interactive online game for children to learn how to find the fraction value of whole numbers. Fractions are of a number are a reflection of a portion of that number. For example, half of a number is that number divided by two. When finding the fraction value of whole numbers, students get to use skills in basic division and LCM.
The objective in this game is to understand the skill being taught. For more practice, students should head to other sections of this website and find similar activities. For the fun part of this exercise, students participate in a car race game. This game features three competitors and the one who arrives first is the winner. However, to win this game, students have to answer as many questions correctly as possible. Each time you get a question right, you get a boost and move faster. Having fun playing this formula one game.
Math video games | cool math game for kids | interactive online classroom game | math tests free online.