Basketball Game On How To Find Fractions of numbers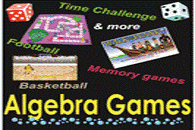 Find Fractions Of Numbers Basketball Game - grade 4, grade 5 , grade 6 and grade 7
In this game, students are required to solve problems in which they are asked to find the fraction values of numbers. For example ¼ of 20 = and so on. When solving such problems, students have to understand basic principles of factors and factorization. Students have to find common factors of two numbers and divide denominators and numerators that have such common values.
Behind the math of fractions that is the focus in this exercise, students also get to interact with an eLearning basketball game. The latter is a fun sport which students like playing either at home or in school. The game in simplified in this case to scoring hoops after answering questions right. Only players who answer more questions get a chance to score a hoop. This math game is online and can be played on a computer or on a tablet. Have fun learning how to find the fractions of whole numbers.
Math video games | cool math game for kids | interactive online classroom game | math tests free online.