Basketball Game On How To Convert Decimals

To Fractions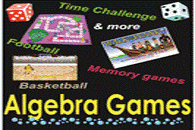 Convert Fractions To Decimals Basketball Game - grade 4, grade 5 , grade 6 and grade 7
Conversion of fractions to decimals basketball game. When converting fractions to decimals students have to pay attention to the number of places after the decimal point. To begin the conversion process, look at how many times a denominator goes into the numerator and the remainder should be set aside. Place a point and what you do to the remainder is to add a zero behind it, making it larger than the numerator. Once this is done, any outcome from the division process is written after the dot. Notice that in some cases, the numbers after the decimal point keep on repeating themselves. Depending on how many decimal places are required by the problem, you could limit this re-occurrence to a few places. Usually, the last value is rounded up or rounded off depending on whether the number to the right is above or below five.
The fun part of this exercise is that students get to play a basketball game online and the player only shoots the hoops into the basket when they answer questions correctly. This game has multiple choice questions and students have to select the correct answer as they play. Have fun playing this free math quiz game online.
Math video games | cool math game for kids | interactive online classroom game | math tests free online.