Fun Games for Algebra Practice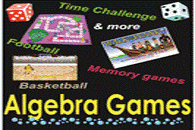 Algebraic expressions Car Race Game, interactive online algebra quiz that features a fun game. Students can review algebraic expressions with fun. The car race game.
The car race game features three competitors trying to reach the finish line first. The first to cross the line is the winner of the game. When you answer questions correctly, you get a chance to go ahead of your competitors. It is not only about the game, students get to review skills related to algebra; in this situation they have to find the answer in case a variable is assigned a specific value. E.g. solve the equation 3 + y = 10 when y= 5. This game is an activity for students in grade 3, grade 4, grade 5, grade 6 and grade 7. Improve your algebra skills both at home and in school. Teachers can use this game as a classroom game while parents can use it to review with kids who are homeschooling. Game based learning online makes it easy to pick up loads of algebra skills.
Games to practice linear equations, inequalities, decimals, fractions, exponents, graphing linear equations, binomial theorem, pythagoras theorem, quadratic equations, algebraic expressions, factorisation, ratios, geometry, intergers, order operations, angles, simple equations, slope, arithmetic progression, LCM & HCF, coefficients & more
The games include among others : memory games, Walk the plank, Fling the Teacher, En Garde Duel, Basketball Game, Penalty Shoot and more - for first grade, second grade, third grade, fourth grade, fifth grade sixth grade and eigth grade - Algebra is fun.